Miniature Fine Art is created to a 1/6th or smaller scale and is sustained
under close inspection and/or magnification.
Small Fine Art and Non-Representational Fine Art
promote the feeling of miniature art with attention to detail are also included in this division.
Image area must not exceed 25 sq. inches.
Outer dimensions of frames must not exceed 56 sq. inches.
Sculptures and 3-D works must be less than 3″ x 3″ x 6″.
JUDGE OF AWARDS
Miniature/Small Works Fine Art Division, Mary Sweet
Mary Sweet was born and raised in Cincinnati, Ohio, received A.B. and M.A. degrees in Art from Stanford University, CA, and has lived in Tijeras, NM since 1970. She has drawn and painted all her life, with media of acrylic on canvas and paper, woodblock prints, watercolor, monotype and artist books. She has been included in publications such as The Acrylic Painter's Book of Styles and Techniques (Rachel Wolf), Who's Who in America; Who's Who in American Art, Who's Who, American Women; Who's Who in the West, American Artist Magazine and others.
Her award winning works in a variety of media have appeared in many shows nationally and her woodblock printings have been shown at the Albuquerque Museum. "The landscape has always been my primary inspiration. The land provides us with everything from sustenance to solace. My paintings are a way of saying this is what I saw and it's important and I want you to see it too."
Jurors:
Susan Brooke, "You Light Up My Life" – SOLD
Ann Lewis
Michael Meyer, "Sacred Pipe" – SOLD
Congratulations!
Best of Show
Jane Fritz, River of Light 2, Watercolor – SOLD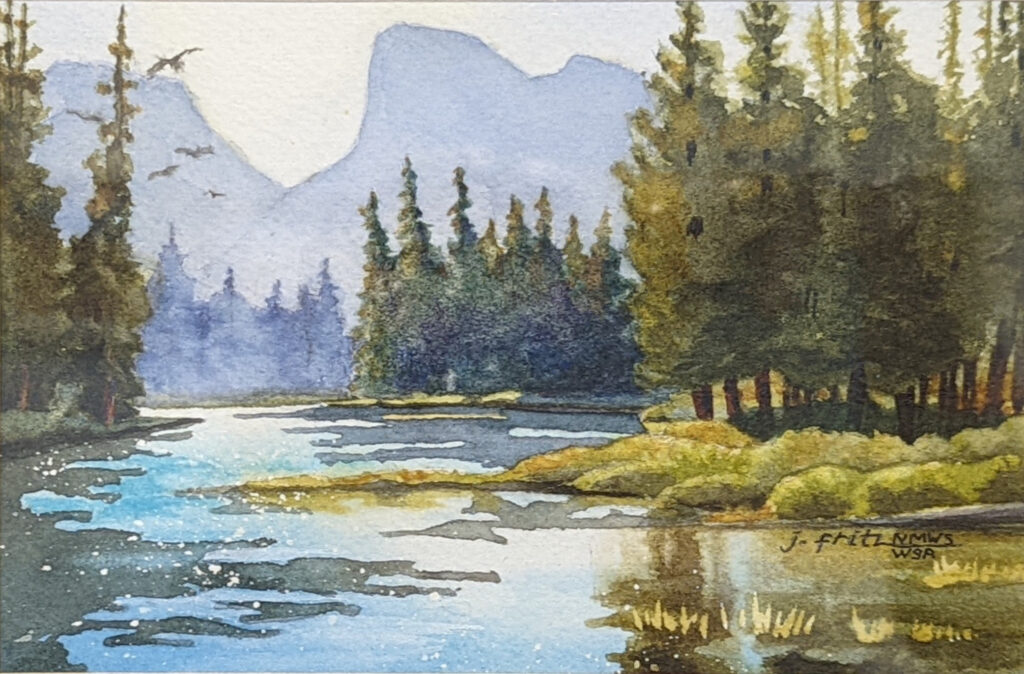 MINIATURE FINE ART AWARD WINNERS
Click on a painting to enlarge, then navigate with your arrow keys or mouse.
ENTIRE MINIATURE SMALL WORKS FINE ARTS SHOW
Patricia Baca, Autumn on the Slope, Watercolor, $175
Patricia Baca, Down But Not Done, Watercolor, $175
Patricia Baca, Going Home, Watercolor, $175 – SOLD
Patricia Baca, Red Sky Sunrise, Watercolor, $175
Rex Barron, Rubber Room, Mixed Media, $95
Kim Bell, Sonoran Sentinels, Oil, $600 – SOLD
Bonnie Berget, Aspens in Winter, Pastel, $125
Bonnie Berget, Buffalo Dancers, Pastel, $125 – SOLD
Bonnie Berget, Coyote Fence, Pastel, $125
Bonnie Berget, Reflections, Pastel, $125 – SOLD
Bonnie Berget, Sun Sets on Lone Butte, Pastel, $125
Joan Boyden, Arroyos View, Watercolor, $150
Joan Boyden, Dawn, Oil, $100
Joan Boyden, Lucky, Oil, $175
Joan Boyden, Morning on the Road, Oil, $150
Joan Boyden, Spring, Oil, $100 – SOLD
Joy Brinkley-Hill, Ascension 8, Watercolor, $95
Joy Brinkley-Hill, Ascension 12, Watercolor, $95
Ginnie Brown, Adobe Winter, Acrylic, $225
Ginnie Brown, An Open Window, Acrylic, $225 – SOLD
Ginnie Brown, Chili Time, Acrylic, $195
Ginnie Brown, Morning Sun, Acrylic, $250
Ginnie Brown, The Lavender Hills, Acrylic, $195
Diane Buster, Along the Rim, Oil, $165 – SOLD
Diane Buster, Grasses in Snow, Oil, $165 – SOLD
Diane Buster, River Rocks, Oil, $165
Diane Buster, Snowy Cliffs, Oil, $165
Gary Chaffin, Mechanical Fish, 3-D Sculpture, $150
Gary Chaffin, The Artist's Studio, 3-D Sculpture, $150
Gary Chaffin, The Puppet, 3-DSculpture, $150
Judy Clark, Going Fishing, Colored Pencil, $150
Judy Clark, Kyoto Temple Detail, Colored Pencil, $150
Judy Clark, Sanibel Brown Pelican, Colored Pencil, $165
Charles Edmondson, Cabin by the Lake, Watercolor, $400 – SOLD
Charles Edmondson, Dancer, Watercolor, $400
Charles Edmondson, Home on the Hill, Watercolor, $400 – SOLD
Charles Edmondson, Smoky Horno, Watercolor, $400
Charles Edmondson, Village Church, Watercolor, $400
Jane Fritz, Gathering Clouds, Watermedia, $175
Jane Fritz, Kelowna Gold, Watermedia, $195
Jane Fritz, River of Light 2, Watermedia, $185 – SOLD
Jane Fritz, Shadows Under the Towers, Watermedia, $175
Jane Fritz, Silent Passage, Watermedia, $195
Charles Goldsmith, Cactus Café, Colored Pencil, $200
Pam Hostetler, Fall Colors, Watercolor, $195
Pam Hostetler, Gloriosas, Watercolor, $120 – SOLD
Pam Hostetler, High Country Reflections, Watercolor, $175
Pam Hostetler, Sunbathers, Watercolor, $195
Pam Hostetler, Valley Farm, Watercolor, $120
Gary Hutchinson, Holy Ghost Panel, Sculpture, $200
Katherine Irish, Evening Blessing, Pastel, $195
Katherine Irish, Evening Choir, Pastel, $195 – SOLD
Katherine Irish, Evening Chorus, Pastel, $195
Katherine Irish, Evening Gift, Pastel, $195
Katherine Irish, Evening Hum, Pastel, $195
Joyce Johns, Apple Blossoms, Watercolor, $100
Joyce Johns, Martha, Watercolor, $150 – SOLD
Susan Kennedy, Arches National Park, Watercolor, $395
Susan Kennedy, Fete d'olives, France, Watercolor, $595
Susan Kennedy, Looking Back, Watercolor, $450
Susan Kennedy, Monument Valley, Watercolor, $395
Susan Kennedy, Sunny Sunflowers, Watercolor, $395 – SOLD
Fran Krukar, Taking Five, Watercolor, $195
Fran Krukar, The Mentor, Watercolor, $175
Melba Lee, Antique Poppies, Watercolor, $95
Melba Lee, Midnight Quiet, Watercolor, $180 – SOLD
Melba Lee, Poppy Burst, Watercolor, $125
Melba Lee, Summer Place, Watercolor, $180
Melba Lee, Takea Hike, Watercolor, $95
Pat Leister, High Desert, Watercolor, $150
Pat Leister, Morning Shadows, Watercolor, $150
Pat Leister, Peaceful Moment, Watercolor, $150
Pat Leister, Sunlit, Watercolor, $150
Mick Leo, Out of the Blue 3, Mixed Media, $345
Shirley Levy, Corte de La Miniera, Italy, Mixed Media, $150
Shirley Levy, Sunrise 6am 3/22/18, Colored Pencil, $125
Shirley Levy, Sunrise 7am 3/22/18, Colored Pencil, $125
Panola Lisle, Bosque Spring, Pastel, $275
Panola Lisle, Morning, Pastel, $275
Panola Lisle, Sunrise, Pastel, $275
Panola Lisle, Winter Tree, Pastel, $225
Carol S. Lopez, Fire and Ice, Encaustic, $400
Carol S. Lopez, Koi, Encaustic, $400
Carol S. Lopez, Sundown, Encaustic, $450
Jerry Love, Curious, Oil, $195
Jerry Love, Freedom, Oil, $195
Jerry Love, Spirit, Acrylic, $195 – SOLD
Tricia H. Love, A Dear of a Deer, Ink, $165
Tricia H. Love, Are We Related? Ink, $165
Tricia H. Love, Taos, New Mexico, Ink, $165
Tricia H. Love, The Egg Lady, Ink, $165
Tricia H. Love, The Street Musician, Ink, $165
Melissa Lowry Mosley, Blue Cold Front, Watercolor, $125
Melissa Lowry Mosley, Juicy Orange Cat, Ink, $95
Melissa Lowry Mosley, Marble Ocean, Acrylic, $95
Melissa Lowry Mosley, Pink Jelly Beans, Watercolor, $125
Melissa Lowry Mosley, Winged Kirin-Bridge, Edo, Watercolor, $125
Filomeno Martinez, Autumn Glow, Colored Pencil, $185 – SOLD
Filomeno Martinez, Foot Steps, Colored Pencil, $185 – SOLD
Filomeno Martinez, San Jose De Gracia, Colored Pencil, $200
Filomeno Martinez, Still Water, Mixed Media, $225 – SOLD
Filomeno Martinez, Unexpected Visitor, Colored Pencil, $180 – SOLD
Victoria Mauldin, Chama Narrow Gauge, Acrylic, $175
Victoria Mauldin, Desert Bloom and Bee, Acrylic, $150
Victoria Mauldin, Hawk on Watch, Acrylic, $150
Victoria Mauldin, Wind Blown, Acrylic, $150
Melissa K. McIntyre, Guitar with Chair, Acrylic, $225
Melissa K. McIntyre, Mack Truck, Balboa Park, Acrylic, $225
Melissa K. McIntyre, My Old Piano, Acrylic, $175
Melissa K. McIntyre, Out to Pasture, Acrylic, $225
Melissa K. McIntyre, San Francisco de Asis, Acrylic, $150
Bonnie Mitisek, Invitation, Pastel, $175 – SOLD
Bonnie Mitisek, Making Friends, Pastel, $175
Bonnie Mitisek, My Neighborhood, Pastel, $175
Bonnie Mitisek, Once Upon a Time, Pastel, $175
Gail Murray, Bee (Hexagon Mini Book), 3-D, $200
Gail Murray, Flat (Round Mini Book), 3-D, $200
Gail Murray, Memory (Rectangle Book), 3-D, $200
Gail Murray, Orange (Square Mini Book), 3-D, $200
Gail Murray, Tut (Pyramid Mini Book), 3-D, $200
Paul Murray, Campanas, Ink, $495
Paul Murray, Spare, Ink, $495
Paul Murray, Touristas, Acrylic, $550
Amelia Myer, Bosque Del Apache Evening, Oil, $195
Amelia Myer, Chama Summer, Oil, $175
Amelia Myer, Domingo Baca on Fire, Oil, $200 – SOLD
Amelia Myer, Los Poblanos, Oil, $195
Amelia Myer, Thomas Merton in Abiquiu, Oil, $195
Barbara Nahler, Obliques, Mixed Media, $125
Barbara Nahler, Outer Space One, Colored Pencil, $125
Barbara Nahler, Outer Space Two,Colored Pencil, $125 – SOLD
Ray Ortiz, Destination Outlook, Ink, $180
Ray Ortiz, Long Forgotten, Ink, $180
Ray Ortiz, Trailhead, Ink, $180
Vickie Pleau, Hawaiian Surf, Oil, $110
Vickie Pleau, New Mexico Chamisa, Oil, $95
Joyce Rapp, Enter at Your Own Risk, Watercolor, $125
Joyce Rapp, Morning Light, Watercolor, $125
Joyce Rapp, Out of Gas, Watercolor, $125
Kerry Renshaw, Good Morning!, Oil, $250
Kerry Renshaw, Here's Looking at You Kid, Watercolor, $195
Kerry Renshaw, Painted Lady, Oil, $200
Kerry Renshaw, Quetzal Sighting, Oil, $175
Kerry Renshaw, Sun King, Oil, $195 – SOLD
Rémy Rotenier, A Walk in North Valley, Gouache, $1,200
Sondra Schlotterback, Path To High Ground, Pastel, $120
Sondra Schlotterback, Valley Winter, Oil, $150
Jinkle Seagrave, Emergence, Oil, $100
Jinkle Seagrave, Joy of Man's Desiring, Watercolor, $100
Jinkle Seagrave, Pigasus, 3-D Sculpture, $100
Toni Seidel, Grey Day, Watercolor, $250
Toni Seidel, Sandia Boulders, Watercolor, $250
Toni Seidel, Snow and Clouds, Watercolor, $250
Tina Stallard, Silver City, NM, Watercolor, $250
Tina Stallard, That's Riveting!, Watercolor, $200
Tina Stallard, Yellow Cab, Watercolor, $200
Michele Tisdale, Family Chorus, Imitation, Oil, $225
Michele Tisdale, La Burro del Cabezon, Oil, $195 – SOLD
Michele Tisdale, Not Yet, Series Imitation, Mixed Media, $225 – SOLD
Rich Troyanowski, Looking up the Trail, Oil, $295
Rich Troyanowski, Nancy's Neighborhood, Acrylic, $275
Rich Troyanowski, Northeast Heights, Acrylic, $200
Rich Troyanowski, Snow in Barrow Canyon, Acrylic, $295
Rich Troyanowski, The Drive Up, Oil, $250
Ruth Vreeland, Barnabas: the Successort, Watercolor, $750
Ruth Vreeland, In Memory of My Boaz, Watercolor, $750
Ruth Vreeland, In Memory of Sarabi, Watercolor, $175
Ruth Vreeland, Reese: Rio Grande Zoo, Watercolor, $200 – SOLD
Jeff Warren, Evanescence, Oil, $250 – SOLD
Jeff Warren, Excalibread, Oil, $150 – SOLD
Jeff Warren, T.G.I.F, Oil, $150
Juan Wijngaard, Asparagus Jar, Oil, $400
Juan Wijngaard, Buho, Print, $95 – SOLD
Juan Wijngaard, Dandelions, Watercolor, $600 – SOLD
Juan Wijngaard, Through the Window, 3-D, $400
Gwen Wilemon, A Moment in Time, Oil, $150
Gwen Wilemon, Bosque Flight, Oil, $150 – SOLD
Gwen Wilemon, Small Reflection, Pastel, $100
Janine Wilson, Canyon Flora, Encaustic, $120
Janine Wilson, Sleeping Cat, Sculpture, $125
Janine Wilson, Slot Canyon, Encaustic, $120 – SOLD
Seung Youn, Chama River, Pastel, $195
Seung Youn, Hikers, Pastel, $195 – SOLD
Seung Youn, Jemez, Pastel, $195