Welcome! Congratulations!
On behalf of everyone associated with the MasterWorks of New Mexico 2022 show of some of New Mexico's finest paintings in most media and styles, I congratulate all artists who entered, and those who were judged award recipients! Our three Jurors deserve praise, as well as our Judge, for giving time and expertise to this challenging jurying process. And a big thank you goes to all our volunteers from our arts organizations, award sponsors, and everyone else who invested time and support for this our 24th show!
Enjoy! – Barbara Lohbeck
JUDGE OF AWARDS COMMENTS,
STANDARD FINE ART DIVISION: Michelle Dunaway
Michelle's Painting – SOLD
Michelle Dunaway is an Internationally known American artist whose paintings are revered for their bold brushwork yet sensitive portrayal of emotions that capture the human experience. Dunaway's paintings have been exhibited in Paris, New York, and Los Angeles and her work has won awards and honors in the Portrait Society of America's International Portrait Competition in 2010, 2014, 2016, 2017, and 2018. Dunaway's artwork has been featured in numerous publications including International Artist, Fine Art Connoisseur, American Artist, Southwest Art, Art of the West, and American Art Collector along with inclusion in several art books. Dunaway has taught and lectured at various venues internationally and her classes draw students from around the globe.
"To me, the extraordinary resides in the everyday moments of life. Those moments when we stop, pay attention and feel gratitude. All of us experience such moments and they transform us for the better. These instances of human life, personal reflection and inspiration are what I love to capture in paint.
As I looked through the artwork of the Masterworks of New Mexico show this year, I was inspired by the full breadth of creativity and skill the artwork displayed. It made my job as this years judge rather difficult, but at the same time I was encouraged by all of the strong painting in a variety of mediums and what this means for the continuation of this Legacy of Fine Art and its enduring impact.
When I judge a show I first look for all of the hallmarks of strong competent painting such as accurate drawing, compelling design, concise values, expressive color choice, and a mastery of technique of the chosen medium and the way that medium is applied. In oils I look at the expressive choice of brushwork, in watercolors the use of the transparent quality of the medium and in pastels, the layering effects that create a variety of luminosity and texture. There were many works that achieved these characteristics overall. The next stage in narrowing down to the prize winners, I am looking for originality and uniqueness of concept and design, technical proficiency of the medium as well as emotional resonance. There are many choices that are made by the artist to create a compelling work that makes us catch our breath and be inspired, these decisions apparent in the top awards are what set these works apart in my eyes."
Jurors: Elizabeth Hahn, Jeff Otis and Augustine Romero
BEST OF SHOW:
Mary Perkins, Coral Cluster, Watercolor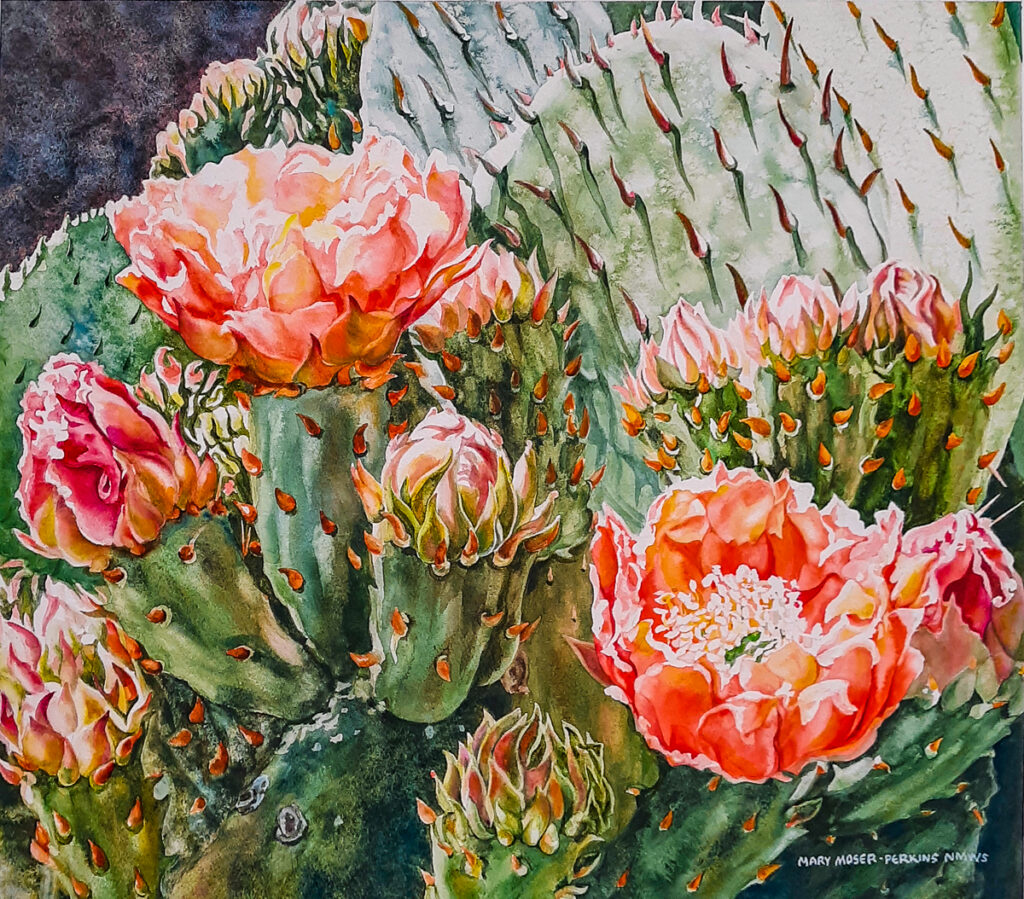 Click on a painting to enlarge, then navigate with your arrow keys or mouse.
AWARD WINNERS
STANDARD WORKS 2022 GALLERY