Miniature Fine Art is created to a 1/6th or smaller scale and is sustained
under close inspection and/or magnification.
Small Fine Art and Non-Representational Fine Art
promote the feeling of miniature art with attention to detail
are also included in this division.
Image area must not exceed 25 sq. inches.
Outer dimensions of frames must not exceed 56 sq. inches.
Sculptures and 3-D works must be less than 3″ x 3″ x 6″.
JUDGE OF AWARDS
Miniature/Small Works Fine Art Division, Filomeno Martinez
"It's always a positive and inspiring experience being involved with MasterWorks of New Mexico.
This year being a Judge of the Miniature division was a different experience for me. Judging a show of this caliber was quite a task. If I could have placed all the works in the top three positions, I would have done it.
Thank you Jurors for accepting such work of top quality and uniqueness. I looked for depth and striking use of light, shadow and the use of space in a miniature dimension.
Even after being involved with the miniature art show for some time now, it is still inspiring to see fresh new ideas in a special art category.
It was a pleasure working with all involved, especially Barbara Lohbeck."
JURORS
Rex Barron, Pamela Hostetler, Tricia Love
Congratulations!
MINIATURE SMALL WORKS FINE ARTS SHOW AWARDS
BEST OF SHOW & PEOPLE'S CHOICE AWARDS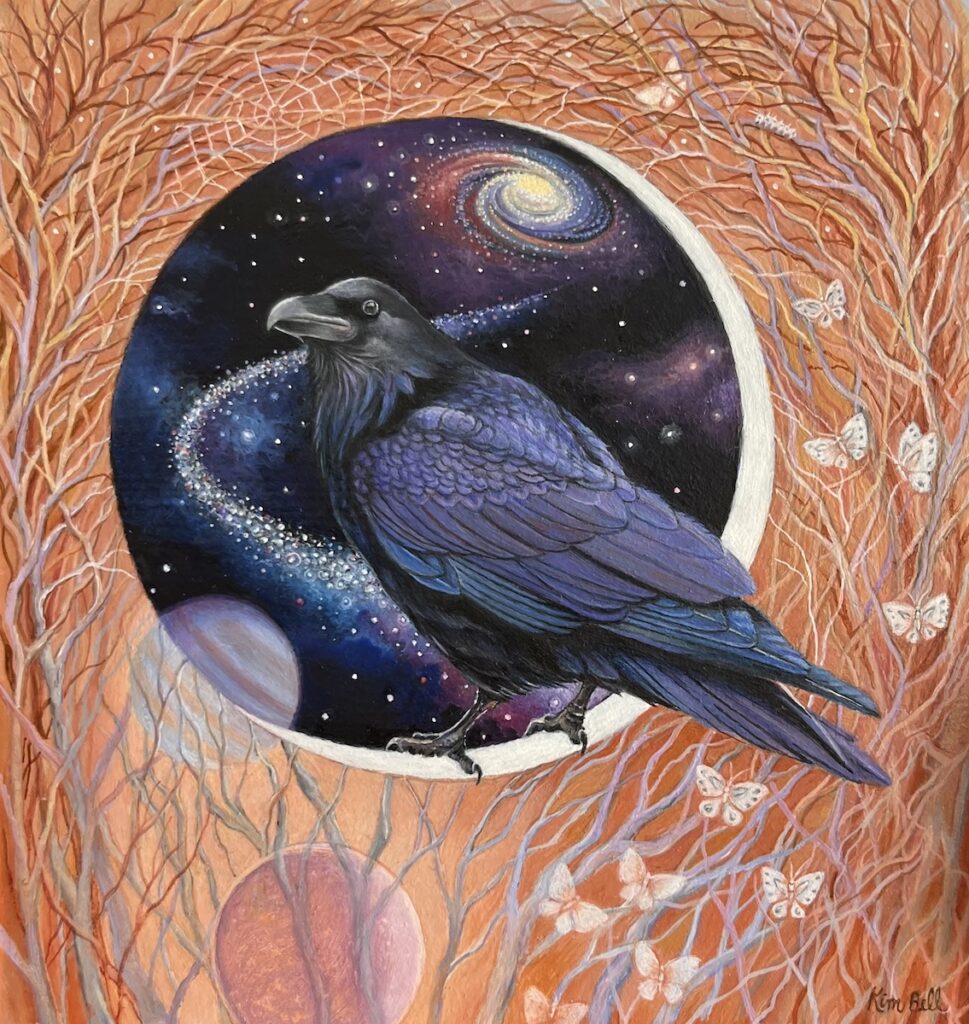 Kim Bell, "Messenger between Worlds", Oil
OIL
1st Place: Sheridan Brown, Lady Grey
2nd Place: Rich Troyanowski, Lily Carpet
3rd Place: Kerry Renshaw, Las Golondrinas View
PASTEL
1st Place: Bonnie Berget, Turquoise Hills NM
2nd Place: Judy Clark, Foothills Patterns
3rd Place: Panola Lisle, Winter Colors
WATERCOLOR
1st Place: Carol Carpenter, Church Interior
2nd Place: Sally Harris, Fishing Tomorrow
3rd Place: Jane Fritz, Interlude
ACRYLIC
1st Place: Paul Murray, Rear View
2nd Place: Jinkle Seagrave, Path Ahead
3rd Place: Ginnie Brown, Mountain Worship
INKS/PRINTS/DRAWING/COLORED PENCIL
1st Place: Judy Clark, Rascal's Side Eye
2nd Place: Linda McKay, Linear Performance
3rd Place: Barbara Nahler, Excitement
3-D
1st Place: Daniel Kronberg, Neptune's Children II
2nd Place: Linda Weiss, Flying Carpet
3rd Place: Gail Murray, Deco
MIXED MEDIA
1st Place: Kenneth White, Follow the Holy Man
2nd Place: Connie Pacheco, Metallic Rhythm
3rd Place: Michele Tisdale, From the Hibiscus Tree
HONORABLE MENTIONS (8 Certificates)
Gary Chaffin, The Piano Player, 3D Sculpture
Judi Foster, Watermelon Sunset, Mixed Media
Jane Fritz, Black Hmong Girl, Watercolor
Diane Hahn, Roaster, Oil
Mick Leo, Firestorm II, Watercolor
Steve Maize, Nevermore, Watercolor
Gail Ranshaw, Mackinac Bridge, Michigan, Oil
Toni Seidel, Amazing Sunset, Watercolor
AWARDS OF EXCELLENCE
Bardean Award
Charles "Bud" Edmondson, Collection of Works
GalleryABQ Salon Show Award
Michele Tisdale, Mother Child, Imitation, Mixed Media
Jack Richeson & Co Award
Tana Thomas, Enzo, Oil
Cathie P. Scott Award for Detail Award
Jane Chevalier, Paisley Dyed Goose Egg, 3D
MINIATURE SMALL WORKS FINE ARTS SHOW
Linda Allison, Abandoned Church, Alcohol Ink, $100
Linda Allison, Thumbelina's Flower Garden, Watercolor, $120
Kim Bell, Messenger between Worlds, Oil, $500
Bonnie Berget, Old Ranch Taos, NM, Watercolor, $295
Bonnie Berget, Road through the Forest, Pastel, $295
Bonnie Berget, So New Mexico,Watercolor, $295
Bonnie Berget, Turquoise Hills NM, Pastel, $295
Ginnie Brown, A Cactus View, Acrylic, $145
Ginnie Brown, Among the Red Rocks, Acrylic, $135
Ginnie Brown, Christmas Eve, Acrylic, $225
Ginnie Brown, Mountain Worship, Acrylic, $225
Ginnie Brown, Tuscany View, Acrylic, $135
Sheridan Brown, Iceland Horses in Heather, Oil, $295
Sheridan Brown, Lady Grey, Oil, $195
Sheridan Brown, Nap Time, Oil, $195
Diane Buster, Morning Hillside, Oil, $175
Diane Buster, Seeking the Light, Oil, $175
Diane Buster, Shady Lakes, Oil, $175
Kathleen Butler, Tent Rocks, Watercolor, $175
Carol Carpenter, Church Interior, Watercolor, $350
Carol Carpenter, In the Canyon, Watercolor, $350
Carol Carpenter, Rouen in Rain, Watercolor, $350
Carol Carpenter, Taos Daylilies, Watercolor, $350
Carol Carpenter, Thailand Market, Watercolor, $350
Tom Cassidy, Going to Market, Watercolor, $125
Tom Cassidy, Lonely Road, Watercolor, $135
Tom Cassidy, Seen Better Days, Watercolor, $125
Tom Cassidy, Wish You were Here, Watercolo, $135
Gary Chaffin, Mechanical Frog, 3-D, $125
Gary Chaffin, Ocean Dreams, 3-D, $150
Gary Chaffin, Pigs at the Beach, 3-D, $150
Gary Chaffin, Plein Air Critic, 3-D, $125
Gary Chaffin, The Piano Player, 3-D, $150
Jane Chevalier, Kaleidoscope Dyed Goose Egg, 3-D, $275
Jane Chevalier, Paisley Dyed Goose Egg, 3-D, $325
Jane Chevalier, Poppies Dyed Goose Egg, 3-D, $280
Jane Chevalier, SW Motifs Dyed Goose Egg, 3-D, $300
Jane Chevalier, Zentangles Dyed Goose Egg, 3-D, $200
Judy Clark, Eastern Shore Marsh, Colored Pencil, $150
Judy Clark, Foothills Patterns, Pastel, $150
Judy Clark, Rascal's Side Eye, Colored Pencil, $175
Catherine Corum, North Rim, Watercolor, $125
John DeSpain, Nettlesome, Pastel, $130
Charles "Bud" Edmondson, Aspen Row, Watercolor, $400
Charles "Bud" Edmondson, Bell Tower, Watercolor, $400
Charles "Bud" Edmondson, Little White House, Watercolor, $400
Charles "Bud" Edmondson, Round Church, Watercolor, $400
Charles "Bud" Edmondson, Sheds, Watercolor, $400
Carla Forrest, Embudito Winter, Oil, $150
Judi Foster, Sandia Peek, Mixed Media, $130
Judi Foster, Snow Bird, Mixed Media, $160
Judi Foster, Watermelon Sunset, Mixed Media, $180
Jane Fritz, Alert, Watercolor, $195
Jane Fritz, Black Hmong Girl, Watercolor, $185
Jane Fritz, Cirque of the Towers, Watercolor, $215
Jane Fritz, Interlude, Watercolor, $185
Jane Fritz, The Red Buoy, Watercolor, $185
Lyla Garcia, Country Lane, Watercolor, $120
Lyla Garcia, High Desert, Watercolor, $120
Lyla Garcia, Lilacs in Santa Fe, Watercolor, $120
Lyla Garcia, Painted Pony, Watercolor, $120
Charles Goldsmith, Dinner at Dusk, Colored Pencil, $140
Diane Hahn, Rest Stop, Oil, $425
Diane Hahn, Roaster, Oil, $425
Sally Harris, Almost There, Watercolor, $95
Sally Harris, Fishing Tomorrow, Watercolor, $95
Sally Harris, Harbor Spring, Watercolor, $95
Sally Harris, Slovenia, Sculpture, $95
Sally Harris, The Bight, Pastel, $95
Jonna James, Cow Miniature, Acrylic, $150
Jonna James, Giraffe Miniature, Acrylic, $150
Jonna James, Llama Miniature, Acrylic, $150
Susan Kennedy, Bountiful Breakfast, Watercolor, $595
Susan Kennedy, Golden Splendor, Watercolor, $395
Daniel Kronberg, Head of Steering Committee, 3-D, $400
Daniel Kronberg, Neptune's Children II, 3-D, $4,400
Linda Krumel, Cows are Out, Watercolor, $120
Linda Krumel, Farm Yard Mama, Watercolor, $120
Linda Krumel, Tucked Away, Watercolor, $150
Melba Lee, Poppies Galore, Watercolor, $160
Melba Lee, Santa Fe Dancers, Watercolor, $140
Melba Lee, Sky City-Acoma, Watercolor, $125
Melba Lee, The Geese Herder, Watercolor, $125
Mick Leo, Arctic Light, Watercolor, $325
Mick Leo, Firestorm II, Watercolor, $325
Mick Leo, High Desert Alchemy, Watercolor, $325
Mick Leo, Magenta Mesa, Watercolor, $325
Mick Leo, Turquoise Tableland, Watercolor, $325
Panola Lisle, Bosque Reflections, Pastel, $225
Panola Lisle, San Patricio, Pastel, $225
Panola Lisle, Winter Colors, Pastel, $195
Carol Lopez, Moonglow, Encaustic, $450
Carol Lopez, Pecos Sunflower, Encaustic, $400
Melissa Lowry Mosley, Feather Bed (Nest Cup), Print, $95
Melissa Lowry Mosley, Humble Home (Screech Owl), Print, $95
Steve Maize, Fall Waterfall, Watercolor, $115
Steve Maize, Lone Journey II, Watercolor, $110
Steve Maize, Nevermore, Watercolor, $115
Steve Maize, Waterfront, Watercolor, $120
Barbara McGuire, Battery Pt. Lighthouse, Watercolor, $140
Barbara McGuire, Lake Como View, Watercolor, $140
Barbara McGuire, Placitas View, Watercolor, $140
Melissa K. McIntyre, Boats, Acrylic, $185
Melissa K. McIntyre, Old Mission, Acrylic, $225
Linda McKay, Chickie, Sculpture, $95
Linda McKay, Linear Performance, Colored Pencil, $95
Linda McKay, Mischief, Colored Pencil, $95
Candis McKinzie, Left in the Lurch, Colored Pencil, $120
Candis McKinzie, Wintery La Fonda, Colored Pencil, $120
Gail Murray, Deco,3-D, $150
Gail Murray, Faux Postage,3-D, $150
Gail Murray, Flying Hearts, 3-D, $150
Gail Murray, Free Style, 3-D, $150
Gail Murray, Junk Drawer, 3-D, $150
Paul Murray, Bench, Ink, $500
Paul Murray, Church at Golden, Ink, $500
Paul Murray, Fixer Upper, Acrylic, $600
Paul Murray, Mosquero, Ink, $500
Paul Murray, Rear View, Acrylic, $600
Barbara Nahler, Close Encounter, Colored Pencil, $150
Barbara Nahler, Excitement, Colored Pencil, $150
Barbara Nahler, Flowing, Mixed Media, $150
Barbara Nahler, Icy View, Colored Pencil, $150
Connie Pacheco, Joyous Swirl, Mixed Media, $150
Connie Pacheco, Metallic Rhythm, Mixed Media, $150
Connie Pacheco, Radiant Glow, Mixed Media, $150
Connie Pacheco, Sapphire Symphony, Mixed Media, $150
Vickie Pleau, Essence of New Mexico, Oil, $150
Vickie Pleau, Limber Grove Trail, Oil, $150
Virginia Primozic, Du Soleil, Mixed Media, $95
Gail Ranshaw, Bosque Snow Geese, Watercolor, $270
Gail Ranshaw, Mackinac Bridge, Michigan, Oil, $325
Gail Ranshaw, Red Sails, Watercolor, $325
Gail Ranshaw, Spring Bluebells, Oil, $575
Gail Ranshaw, Sunshine, Watercolor, $280
Kerry Renshaw, Lookout, Oil, $110
Kerry Renshaw, Las Golondrinas View, Oil, $150
Kerry Renshaw, Pansy Parade, Oil, $125
Kerry Renshaw, Photo Op, Oil, $175
Rémy Rotenier, A Walk in North Valley #5, Gouache, $800
Elaine Scheideman, P Patch, Watercolor, $150
Elaine Scheideman, Shadow Alley, Watercolor, $195
Nancy Schrock, Reflections, Colored Pencil, $150
Jinkle Seagrave, Iris on Fence, Watercolor, $100
Jinkle Seagrave, Path Ahead, Acrylic, $100
Jinkle Seagrave, Up, Up and Away, Watercolor, $100
Jinkle Seagrave, Wedgwood Joy, Watercolor, $100
Jinkle Seagrave, Winter Wonder, Acrylic, $100
Toni Seidel, A Walk in the Bosque, Watercolor, $250
Toni Seidel, Amazing Sunset, Watercolor, $250
Colleen Shackley, La Cueva Mill, Watercolor, $150
Laura Speer, Coma Coma Camelia, Watercolor, $100
Laura Speer, Magdalena's Back Yard, Watercolor, $100
Laura Speer, Navajo Pearls, Watercolor, $100
Laura Speer, Right Turn Clyde, Watercolor, $100
Laura Speer, Rock Band, Watercolor, $100
Tina Stallard, ABQ Train Station, Watercolor, $175
Tina Stallard, Arizona Natives, Watercolor, $150
Tina Stallard, Bottle Beauty, Watercolor, $200
Tina Stallard, Rooting for You, Watercolor, $150
Tina Stallard, Tucson Planter, Watercolor, $175
Dierdre Stoneking, Summer's Mini Me, Sculpture, $500
Tana Thomas, Enzo, Oil, $95
Tana Thomas, Gigi, Oil, $95
Tana Thomas, Sophie, Oil, $95
Tana Thomas, Sunset at Shady Lakes, Oil, $95
Michele Tisdale, From the Hibiscus Tree, Mixed Media, $199
Michele Tisdale, Mother Child, Imitation, Mixed Media, $225
Michele Tisdale, Sparrow Flutter, Tree Top, Mixed Media, $225
Rich Troyanowski, Ghost Ranch Ghost, Oil, $250
Rich Troyanowski, Lily Carpet,Oil, $295
Rich Troyanowski, Malpais Morning, Acrylic, $295
Rich Troyanowski, Sandia Snow Field, Oil, $325
Linda Weiss, Flying Carpet, 3-D, $105
Linda Weiss, Tartan Fruit Basket, 3-D, $105
Kenneth White, Follow the Holy Man, Mixed Media, $450
Marcia Williams, Amaryllis with a View, Oil, $175
Marcia Williams, Little Creek Waterfall, Oil, $250
Marcia Williams, Mother and Son, Oil, $300
Janine Wilson, Creatures of the Forest, Acrylic, $100